Finally, Christmas is almost here!! Yay! Today was the last day I had to work before Chrissy so now I feel that I can really get into the Christmas spirit... I've bought all of my pressies so now I just have to do the cooking and relax! I made a heap of yummies yesterday after work to give to some friends and for us to eat on Tuesday....
They are (clockwise from top left) Bailey's balls, Honey Bubble slice, peanut butter balls, chocolate balls and mini plum puddings with chocolate. The honey bubble slice is something that Mum used to always make for us as kids... it is SO yummy and always reminds me of when I was little, waiting for it to get cold and set. I got the recipe for the peanut butter balls off the net - they are so yummy that it's not even funny!! I'm so glad I joined the gym - I think I'm going to have a bit of extra weight to work off.... LOL!
A big Thanks to Kirsty and Dee for my beautiful Christmas pressies...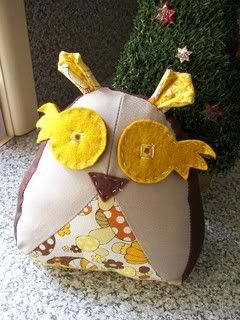 Isn't he cute! Dee also made me the yummiest brown sugar shortbread, you can see a pic on her blog
here
..... I would have taken a photo myself but most of it is gone. Ooops....
And last but not least I have a journal page to share...
I've been working on a few things lately, but I can't share yet as they are classes for next year. I'm so excited about doing art journal classes next year!! They'll be every second Saturday morning starting around the middle of January... so if you're in or around Rockhampton, come in and have a look!
Well, I hope everyone has a fantastic Christmas!! Make sure you all travel safely and enjoy whatever it is that you may be doing!