Was blog surfing the other day and found this amazing blog - except it's all in French so I can't understand most of it! Now I did do French for 3 years at school but that was over 10 years ago, so I seem to have forgotten most of it. Noel bought me a "Learn to speak French" computer programme for Chrissy last year but I haven't used it much (except for the first 2 weeks I had it!)
So my resolution for next year is to learn to speak French!! Even if I can't hold a whole conversation, I would still like to be able to read it and understand.
So here's a look at one of the fab layouts I found... I just love how the closer you look at it, the more you see.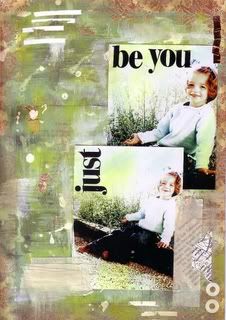 You can check out more of her work
here
.
Well, must get back to work. We have our monthly crop tomorrow night so am hoping to get a few of my half finished art journal pages done. So hopefully I'll have a lot more to share by the end of the weekend. See ya!!